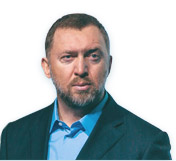 Foundation for the Advancement
of Theoretical Physics "BASIS"
The Founder of the Foundation
Oleg Deripaska
"To ensure continuity of generations is one of the crucial challenges in Russian fundamental science today. Therefore it is extremely important to create the conditions when young and upcoming generations of scientist can see prospective and evident career path in science. It requires also support of Russian scientist in their competitive involvement in international scientific community, active participation in cutting-edge research at the highest international level.
Systematic approach to support and advancement of Russian science inevitably demands development of education system. The long-term and complex programs not only aim to improve teaching methods and technologies in fundamental science, but also and more importantly have to change the very approach to education in science. Physics will become a starting point for these programs, whereas the Faculty of Physics of Moscow State University - the launching platform."
Oleg Deripaska
Oleg Deripaska is Russian businessman and philanthropist. He is Chairman of the Supervisory Board of Basic Element since July 2012, President of En+ Group and of UC RUSAL.
Oleg Deripaska graduated with honours from Chair of Quantum Statistics of Moscow State University. Also he received a Master's degree from the Plekhanov Academy of Economics in Moscow.
Oleg Deripaska is Vice President of the Russian Union of Industrialists and Entrepreneurs, Chairman of the Executive Board of the Russian National Committee of the International Chamber of Commerce, and a member of the Competitiveness and Entrepreneurship Council, an advisory body to the Russian Government.
Mr Deripaska sits on the Boards of Trustees of the Bolshoi Theatre, the School of Business Administration, the School of Public Administration, the School of Economics at the Moscow State University, and the School of Business Administration at Saint Petersburg State University. He is a co-founder of the National Science Support Foundation and the National Medicine Fund.
Oleg Deripaska is a Founder of Volnoe Delo Foundation (www.volnoe-delo.ru/eng) that for 20 years has been supporting science and education, helps to preserve Russia's historic and cultural heritage, promotes social development, supports the healthcare system and tackles major social problems.
A physicist by education, Oleg Deripaska is a champion of the use of new technologies and innovation. He is a key figure in modernising Russia's industry and strives to drive up corporate governance and environmental standards in his businesses. Oleg Deripaska is a strong supporter of education, the arts and charities.